At an estimated $80 the Hoover Bagless UH70120 offers a decent price for the features included. It offers a durable design, a 27 ft retractable cord and four tools designed to enhance cleaning capabilities. The bagless vacuum is lightweight and features windtunnel technology, promising powerful suction. Standing at just under 4′ tall this machine boasts five adjustable height levels.
Pros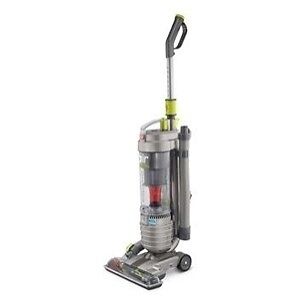 The Hoover WindTunnel is only 16.5 lbs, allowing for easy transport around the home and up/down stairs. When carrying this vacuum upstairs, you no longer need to worry about tripping over cords! There is a button designed to rewind the cord back into the base of the machine. Perhaps the most impressive feature of this machine, aside from its strong suction capabilities, is its system check indicator. This handy tool alerts you when the vacuum filter needs to be emptied and cleaned.
The hand tools work great for removing hair from furniture, cleaning small areas and even zapping away cobwebs. With its intuitive Wind Tunnel technology and smart filter system, this vacuum is sure to inhale a lot of dirt!
Cons
This Hoover features clips to keep the removable tools intact, unfortunately the hand-tools fall off quite frequently. In addition to tools slipping off, customers agree that the cord should be rewound a little higher on the vacuum to prevent it sliding under the machine. Due to the lack of an included brush roll, wooden floors are tricky to navigate with this machine.
Overall
The Hoover WindTunnel provides a lightweight and durable machine for the price. It hosts a family of hoses and eliminates the tangle of cords. Aside from a tool falling off here and there and the missing brush-roll, this machine offers a good solid performance. This device comes complete with a two year limited warranty.